About Adobe Realty of Santa Fe, Inc.
Adobe Realty of Santa Fe is locally owned and has served the Santa Fe market since 1977.  We continue to pride ourselves in our dedication to personal service.  Whether you are buying or selling, we are committed to making your real estate transaction experience as enjoyable as possible with attention to detail and with a high level of integrity.
Educating Customers on Market Conditions
Comparative Market Analysis
Investment Property Opportunities
Santa Fe and the Outlying Areas
Let us know how we can help you!
Beth E. Fauré, Owner/Qualifying Broker
Roseanna Z. Gonzales, Owner/Associate Broker
Natalie Buschbom, Associate Broker
Beth Fauré | Owner & Qualifying Broker
Adobe Realty of Santa Fe, Inc.
Beth Fauré is co-owner and the Qualifying Broker for Adobe Realty of Santa Fe, Inc. She has over 20 years of real estate experience in the greater Santa Fe area. Because of this, Beth and has experience helping clients with a variety of real estate needs, including:
Single-family homes, condo, and townhomes
First time home buyers
Investment properties
Ranches and land
Commercial properties
Short sales and foreclosures
Beth takes pride in guiding my clients through every transaction from start to finish. Clients often comment on her high degree of patience, strong listening skills, strong follow through and attention to detail. She is grateful for the many referrals and repeat clients she has received over the years.
When she am not guiding clients, Beth really enjoys hiking, snowshoeing, gardening, visiting Santa Fe's awesome flea markets and attending special exhibits at the local museums. Beth volunteers for The Horse Shelter's Annual fundraising event and currently serves as a Board Member for Nurses with Heart. She lives in Santa Fe with her husband of over 30 years, Jacques, and lots of animals!
Professionally, Beth is active in the Santa Fe Association of Realtors including serving as its past MLS Committee Chair, and as a past member of the Community Services Committee, Education Committee and Grievances Committee. Beth is also a past recipient of the Santa Fe Association Realtor of the Year award.
You can reach Beth via email or by calling 505-690-2713.
Roseanna Z. Gonzales | Owner & Associate Broker
Adobe Realty of Santa Fe, Inc.
It was about 35 years ago when Roseanna realized that she had a genuine interest in the real estate industry.  Through hands-on experience at her father's Title Company then later at her father's Law Firm, Roseanna had not only developed the skills but also the interest in helping others through the process of buying and selling real estate.
In 1985, General James H. Walsh offered Roseanna a warm welcome to Adobe Realty.  It was a small brokerage, primarily focused on the importance of customer interest and quality of service.  From day one, Roseanna felt that it was extremely important to help her customers achieve a high level of comfort with their sale and/or purchase by providing each of them with a clear understanding of the process and by giving them the support they needed to make the best-educated decisions throughout the entire transaction.
In 1997, and upon General Walsh's retirement, Roseanna teamed with Beth Fauré to acquire Adobe Realty of Santa Fe, Inc.  To this day, they continue to preserve the company's legacy of offering professional and personal services tailored to meet each customer's needs.
Professionally, Roseanna has been an active member of the Santa Fe Board of Realtors for the past 35 years.  As part of her personal commitments to the community, she has served on the Grievance Committee and on the Professional Standards Committee.  In 1997, Roseanna was the first female elected President of the Alumni Association at St. Michael's High School.  She also served as a Board Member of the St. Michael's High School Foundation and the New Mexico Children's Trust Fund.
"Personally, the ability to balance my career with raising a family has enriched my life in so many ways.  My husband and I have raised two wonderful children and have enjoyed sharing their many life experiences over the years.  I have also been an avid tennis player since my youth, enjoying every opportunity to play competitively and in a friendly environment.  Other hobbies that bring me joy include traveling, hiking, gardening, cooking, eating wonderful foods and renovating homes."
You can reach Roseanna via
email
or by calling
505-470-5638
.
Natalie Buschbom | Associate Broker
Adobe Realty of Santa Fe, Inc.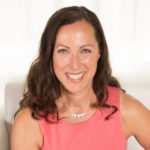 Natalie Buschbom graduated from San Diego State University with a Bachelor of Science in Business, emphasis in Marketing. After graduation, Natalie worked in corporate product planning and obtained her Real Estate license. After several years in the planning industry, Natalie launched her full-time Real Estate career and has been a Realtor now for over 10 years. During this time she has worked with a diverse set of customers and types of properties including first-time homebuyers, investors, veterans, multi-unit buildings, single family homes, condominiums, townhomes, short sales, and foreclosures. Natalie strives to truly listen to others, give constructive feedback, and build strong and lasting relationships. She takes pride in excellent customer service and communication, with integrity and attention to detail. She lives in Santa Fe with her husband and three children with two dogs and several chickens. Natalie and her husband grew up spending time outdoors, riding horses, hiking, and growing their own food and are happy to bring these opportunities to their active family. Natalie enjoys coffee, cooking for family and friends, and weightlifting.
You can contact Natalie via email or by calling 505-428-9366.